New Education Center and Saola Exhibit at Bach Ma National Park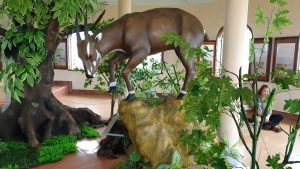 October, 2020
A new visitor education center has been developed at the summit house in Bach Ma National Park to raise awareness about the conservation of rare and endangered species in the park. The education center includes a new multi-sensory saola display that will be experienced by thousands of visitors to the park.
Dubbed "Asian Unicorn", Saola is one of the rarest animals in the world, and their conservation and protection is a top priority. Recently, IUCN and Ministry of Agriculture and Rural Development have been working on a collaborative program to study, rescue, and preserve Saola and plan to build a Saola breeding center in Bach Ma National Park. However, up to now the communication on Saola conservation has not been properly considered to raise the awareness and support of tourists, community, governmental and foreign organizations for practical activities to protect Saola from extinction.
WWF Vietnam has been supporting Bach Ma National Park to improve the communication effectiveness by developing Saola statues and information boards. This exhibit will support  communication activities on Saola conservation in the Park (at Hai Vong Dai, Visitor Center) or buffer zone communes, and includes a donation box where visitors can donate to support Saola conservation activities. The main purpose of the education exhibition is to raise awareness in the community and increase the support of people, authorities, domestic and foreign tourists when coming to work or visit Bach Ma National Park for Saola conservation activities in Bach Ma National Park and surrounding areas.
About Bach Ma National Park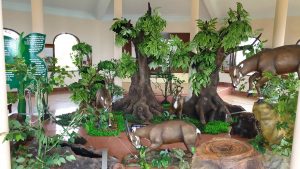 Bach Ma National Park covers an area of ​​37,487 hectares and is located in the two provinces of Thua Thien Hue and Quang Nam, which are at the end of the North Annamite Range, which is the climatic transition of northern and southern regions of Vietnam. The topography transforms from the plains, all the way up to an elevation of 1,700 meters above sea level. Bach Ma National Park is rich in biodiversity and is a typical biodiversity area of Annamite Range, defined as one of the 200 ecoregions representing unique biodiversity in the world (WWF, 1998).
Every year, Bach Ma National Park welcomes about 20,000 visitors to Bach Ma summit and around 100,000 visitors to the community tourism sites in the buffer zone such as Ho Truoi, Khe Su, Thuy Dien, Thac Mo, Thac Truot (Nam Dong district).
Photos:  Bach Ma National Park
The saola interpretation in the Education Center describes the history of this rare species, their threats and conservation, and how to help save the saola.