The Saola Working Group (SWG)
Part of the Asian Wild Cattle Specialist Group of the IUCN Species Survival Commission (SSC), the SWG was formed in 2006 in recognition of the need for urgent, coordinated action to save the saola from extinction. We held our first biennial meeting in 2009. In addition to being the main driver of saola conservation in Laos and Vietnam, the SWG advocates for conservation of the globally significant Annamite Mountains as a whole.
The Saola Working Group works collaboratively to conserve saola in nature, and to leverage saola as a flagship for conservation of the bio-cultural diversity of the Annamite Mountains as a whole.
Collaboration is key to the SWG's work.
The SWG is not a stand-alone organization, but a collaborative partnership. The SWG currently has 19 members, drawn from a range of government partners and conservation organisations working in the saola's range. SWG members are among the most experienced conservationists and biologists at work in Southeast Asia. This experience, and their close collaboration, are the SWG's central strengths.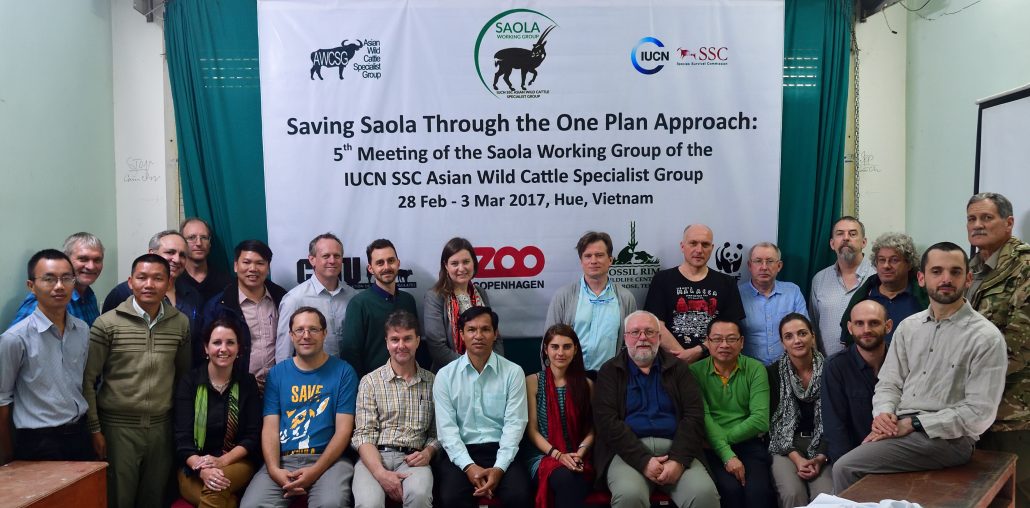 SWG Members
The following institutions are "home" to the SWG's more than 30 members. Which is not to forget the SWG's freelance members, Rob Timmins and Dr. Hannah O'Kelly. In alphabetical order (with their associated SWG members):
BANHAM ZOO / AFRICA ALIVE!: Terry Hornsey
DEPARTMENT OF FOREST RESOURCES MANAGEMENT (LAO PDR): Bouaphanh Phanthavong, Outhai Vongsa
GLOBAL WILDLIFE CONSERVATION: William Robichaud
IUCN VIETNAM PROGRAMME: Nguyen Duc Tu
INSTITUTE OF ECOLOGY AND BIOLOGICAL RESOURCES (VIETNAM): Dr. Nguyen Xuan Dang
KING MONGKUT'S UNIVERSITY OF TECHNOLOGY THONBURI (THAILAND): Chanthasone Phommachanh
LOS ANGELES ZOO: Jeff Holland
LEIBNIZ INSTITUTE FOR ZOO AND WILDLIFE RESEARCH: Andrew Tilker
PROJECT ANOULAK: Dr. Camille Coudrat
ROYAL ZOOLOGICAL SOCIETY OF SCOTLAND: Douglas Richardson
SAN DIEGO SAFARI PARK: Andy Blue
SMITHSONIAN CONSERVATION BIOLOGY INSTITUTE: Dr. Pierre Comizzoli
UNIVERSITY OF CAMBRIDGE: Nicholas Wilkinson
VIET NATURE: Le Trong Trai
VINH UNIVERSITY: Dr. Cao Tien Trung
WHITE OAK CONSERVATION CENTER: Steve Shurter
WILDLIFE CONSERVATION ASSOCIATION (LAOS): Dr. Chanthavy Vongkhamheng
WILDLIFE CONSERVATION SOCIETY ASIA PROGRAM: Dr. Simon Hedges
WILDLIFE CONSERVATION SOCIETY / BRONX ZOO: Dr. Pat Thomas
WILDLIFE CONSERVATION SOCIETY CAMBODIA PROGRAM: Sarah Brook
WILDLIFE CONSERVATION SOCIETY LAO PROGRAM: Alex McWilliam, Xaysompheng Sengkhamyong, Ben Swanepoel,
WILDLIFE CONSERVATION SOCIETY VIETNAM PROGRAM: Dr. Scott Roberton
WWF GREATER MEKONG PROGRAMME: Dr. Tom Gray, Crispian Barlow,
WWF-US: Dr. Barney Long
WWF VIETNAM PROGRAMME: Nguyen Quang Hoa Anh
ZOOLOGICAL SOCIETY OF LONDON: Dr. Sam Turvey, Nick Lindsay
ZOOPARC DE BEAUVAL: Eric Bairrão Ruivo