Press Releases
If you are a reporter, editor or producer interested in working with SWG on a Saola story, please contact Corinne Bailey at c.bailey@chesterzoo.org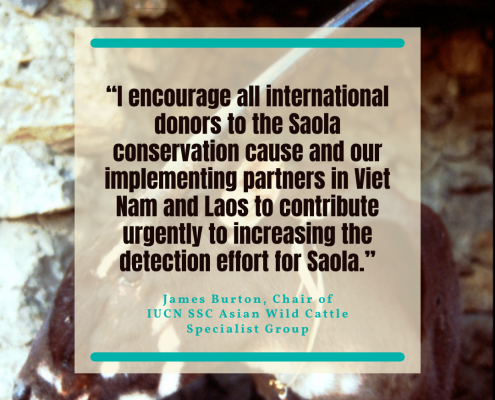 IUCN SSC Position Statement: The urgent need to save the saola
August, 2021
The IUCN SSC have released a Position Statement on the critical need to focus efforts on saola conservation (19th August 2021). The statement urges immediate action to identify and conserve existing populations before it is too late.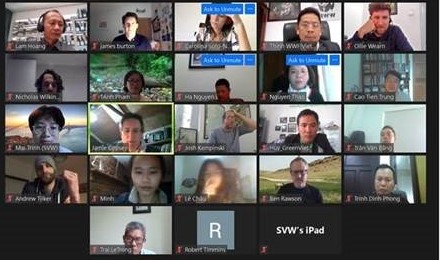 Increasing collaboration for Saola detection efforts
May, 2021
The Saola Working Group has recently hosted two meetings with partners in Vietnam and Laos to collate the latest knowledge on detection work for saola and share experiences to make detection efforts more effective in future.
A recent review of SWG camera trap images from Pu Mat National Park has turned up a sequence of a sun bear taken in September 2019. The species is known from flagship protected areas in Lao PDR, but this is only the second time it has been recorded in Vietnam in recent years.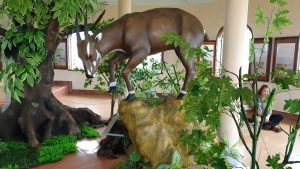 New Education Center and Saola Exhibit at Bach Ma National Park
October, 2020
A new visitor education center has been developed at the summit house in Bach Ma National Park to raise awareness about the conservation of rare and endangered species in the park. The education center includes a new multi-sensory saola display that will be experienced by thousands of visitors to the park.
(Read more)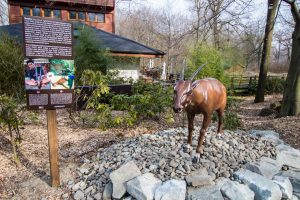 Zoo Ostrava's New Saola Sculpture
June, 2020
Zoo Ostrava, one of SWG's key partners, have installed a sculpture of Saola in their zoo. This life-sized sculpture sits next to the zoo's Saola Restaurant and is a great example of how multi-sensory interpretation helps to raise awareness of this little known, elusive species.
(Read more)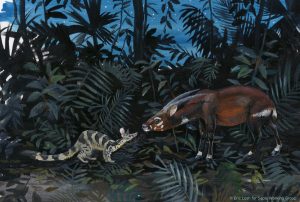 Zoos Worldwide Answer Call to Help Save Asian "Unicorn"
February 20, 2018
Although no zoo has ever cared for the antelope-like saola—and no biologist has ever seen one in the wild—zoos and affiliated organizations around the world have generously contributed or pledged more than $350,000 to support efforts that represent the last best hope to save the critically endangered species: a conservation breeding center.
(Read more)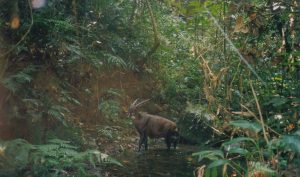 World Saola Day: Conservationists Aim to Establish First Breeding Program for Asian "Unicorn"
July 7, 2017
The second-annual World Saola Day, July 9, marks a renewed sense of hope and urgency for an international partnership developing the first-ever conservation breeding program for the saola, an antelope-like mammal so rare that no biologist has ever seen it in the wild.
(Read more)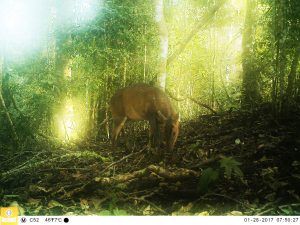 Scientists Release Rare Photographic Evidence of Critically Endangered Barking Deer
April 6, 2017
Conservationists have caught on camera one of the rarest and most threatened large mammal species in Southeast Asia, the large-antlered muntjac, in Lang Biang Biosphere Reserve in south-central Vietnam. This is only the third site in the last 10 years where this species of muntjac, or barking deer, has been photographed in Vietnam.
(Read more)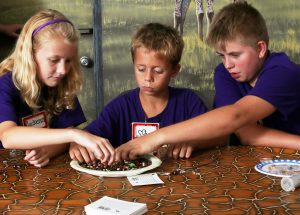 Zoo Campers Get Creative for Wildlife
August 23, 2016
Summer Zoo Campers at Henry Vilas Zoo's Jr. Zookeeper "Conservation Connection" Camp this week are transforming one of the most serious threats to wildlife into creative artwork to help save an endangered animal in Southeast Asia, the saola. The campers—who are in sixth through ninth grades—are creating artistic keychains and dream catchers from illegal hunting snares that ranger teams in Laos and Vietnam have collected. (Read more)
May 25th, 2022: Fight to save SEA Games mascot shifts into high gear (CNA News) Link
Jan 7th, 2022: Scientists step up hunt for 'Asian unicorn', one of world's rarest animals (The Guardian) Link
July 9th, 2021: Google joins forces with WWF-Viet Nam in Saola Conservation Campaign (WWF) Link
Sep 30th, 2020: Saola might be Vietnam's mascot for 2021 SEA Games, Para Games (Express) Link
Sep 29th, 2020: Vietnam creates new nature reserve, possible home to elusive 'Asian unicorn' (Mongabay) Link
Dec 18th, 2018: Fading Stripes in Southeast Asia: Saving the Elusive Annamite Striped Rabbit (Capeia) Link
March 5, 2018: Can the Elusive Saola Be Saved from Extinction? (Capeia) Link
March 5, 2018: WRS: Singaporeans can help regional conservation efforts from home (The New Paper) Link
Feb. 20, 2018: Zoos Worldwide Answer Call To Help Save Asian "Unicorn" (ValueWalk) Link | PDF
Feb. 21, 2018: Race to save the Asian UNICORN: Mythical saola on brink of extinction (Express) Link | PDF
October 9, 2017: Establishing a conservation breeding programme to save the last saola (Phys.org) Link | PDF
August 10, 2017: Scientists hope to breed Asian 'unicorns' – if they can find them (The Guardian) Link | PDF
August 10, 2017: Crafting for conservation (Isthmus) Link | PDF
July 14, 2017: Bach Ma Park to host saola breeding centre (VietnamNet) Link | PDF
July 14, 2017: Bạch Mã Park to host saola breeding centre (Viet Nam News) Link | PDF
July 12, 2017: Save the saola: Breeding center for rare mammal to open in Vietnam (Voice of Vietnam) Link | PDF
July 12, 2017: World's 1st Saola breeding center formed in Vietnam (Global Times) Link | PDF
July 11, 2017: Vietnam's National Park selected to host world's first saola breeding centre (Hanoi Times) Link | PDF
July 11, 2017: Save the saola: Breeding center for rare mammal to open in Vietnam (VN Express) Link | PDF
July 11, 2017: World's 1st Saola breeding center formed in Vietnam (Xinhua.net) Link | PDF
July 11, 2017: World's 1st Saola breeding centre in Vietnam (CI News) Link | PDF
July 11, 2017: Sao la có thể thoát nguy cơ tuyệt chủng (VN Express) Link
July 11, 2017: Bach Ma National Park comparison to horde world's initial saola tact centre (Greeting Vietnam) Link | PDF
July 10, 2017: Thiết lập chương trình nhân giống Sao la tại VQG Bạch Mã (Bảo vệ môi trường) Link
July 10, 2017: Thiết lập chương trình nhân giống Sao la tại VQG Bạch Mã (ThienNhien.net) Link
July 9, 2017: Thiết lập chương trình nhân giống loài "kỳ lân" châu Á – sao la (Nhân Dân) Link
July 8, 2017: Xây dựng trung tâm nhân giống Sao La đầu tiên trên thế giới (Người đưa tin) Link
July 7, 2017: Sao la có thể thoát nguy cơ tuyệt chủng (Tin247) Link
Summer 2017 issue: In Search of the Lao Unicorn (On Wisconsin Magazine) Link | PDF
April 6, 2017: In search of the elusive saola (Isthmus cover story) Link | PDF
Nov. 9, 2016: Endangered Species with Wisconsin Ties (Wisconsin Public Radio/The Larry Meiller Show) Link | PDF
Oct. 20, 2016: Saving the "Asian Unicorn" (Radio New Zealand) Link | PDF
Oct. 16, 2016: Salvation for the shy Saola? (Borneo Post) Link | PDF
Sept. 4, 2016: Listen: Searching for the Last Unicorn (Wisconsin Public Radio/To the best of our Knowledge) Link | PDF
August 31, 2016: Rescuing the Last of the Unicorns (One Green Planet) Link | PDF
July 15, 2016: Saving the Saola: a 20th century discovery, a 21st century challenge (Thanh Nien) Link | PDF
July 15, 2016: Saving the Saola: a 20th century discovery, a 21st century challenge (Báo Mới) Link | PDF
July 11, 2016: World Calls for Urgent Action to Save "Asian Unicorn" in Laos, Vietnam (Lao News Agency) Link | PDF
June 15, 2016: How Boise Might Help Save the 'Last Unicorn' (Boise Weekly) Link | PDF
May 21, 2012: Elusive 'Asian Unicorn' Faces Extinction (LiveScience) Link | PDF
April 13, 2011: 'Asian Unicorn' Reserve Created to Protect Mysterious Species (LiveScience) Link | PDF
April 4, 2011: The saola: rushing to save the most 'spectacular zoological discovery' of the 20th Century (Mongabay) Link | PDF
September 17, 2010: Rare Asian 'unicorn' sighted, dies in captivity (NBC News) Link | PDF