For the last five years, Brooklyn-based artist Eric Losh has used his incredible talent as a volunteer to design SWG's beautiful, Saola-themed holiday cards that go out to members, supporters and partners this time of year. Losh is also author and illustrator of "Wonders of the Annamites," a children's book that highlights the beauty of the species living in the Annamites Mountain range. Check out his work at www.elosh.com.
We had an opportunity to chat with Losh about his love for Annamites species, his 2017 holiday card, and the upcoming Vietnamese launch of his book "Wonders of the Annamites:"
Q. How did you develop your interest in the species of the Annamites?
A: I saw a talk online in 2012 that was given by Bill Robichaud, coordinator of the Saola Working Group, about the work being done to protect the Saola. I was inspired by the talk, and felt compelled to contribute my talents toward the cause. After contacting Robichaud, he gave me the opportunity to create the artwork for that year's SWG's holiday card, which has now turned into an annual project. I've come to learn a lot about the ecology of the Annamites from Robichaud and his colleague, a wildlife expert for the IUCN, William Duckworth, throughout the years.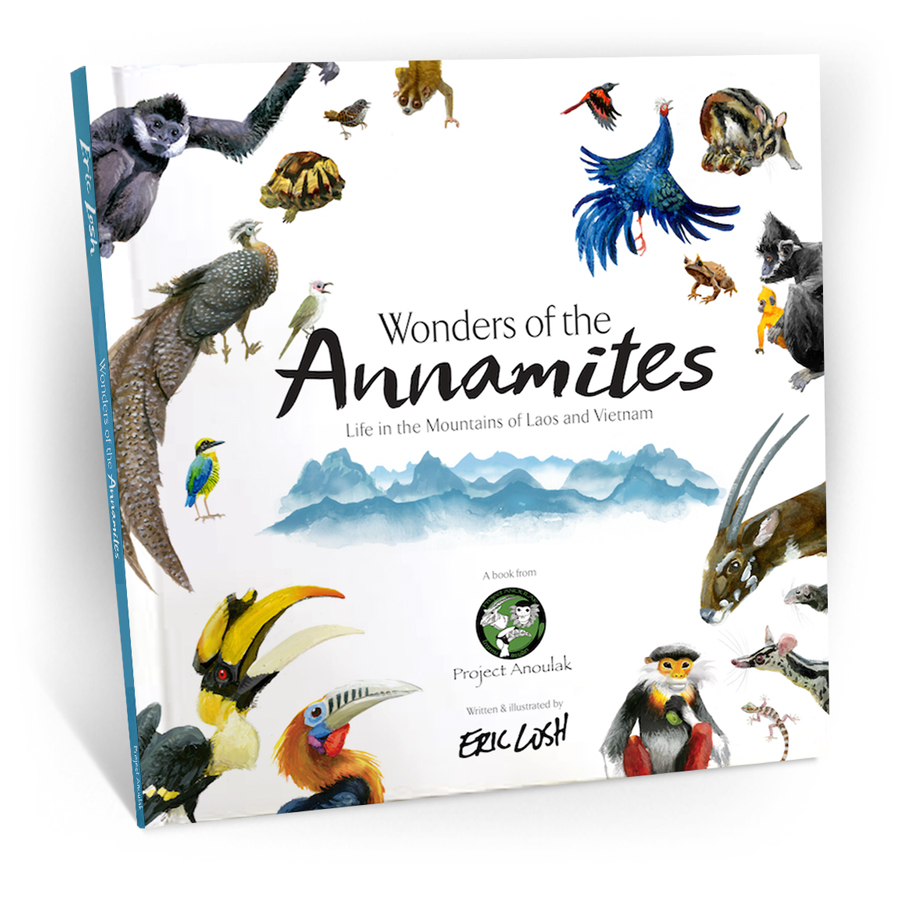 In 2015, Robichaud put me in touch with Camille Coudrat, founder of the Laos-based NGO, Project Anoulak. With her partnership, I went on to write and illustrate "Wonders of the Annamites," which is the first children's book about the wildlife found in the Annamites. The book features 60 animal species and the diverse mountain habitats in which they live, as seen by a local family as they travel through the highlands to visit their grandmother. I'm selling an English edition of the book in the United States, and Project Anoulak has released it in French and Lao. We're also really excited for an upcoming Vietnamese release of the book by Vietnam's Nha Nam Publishing this December.
Q. Where do you get the inspiration for each holiday card design for the Saola Working Group?
A: Each card is a new opportunity to delve into the world of the Saola, and I'm always excited to create artwork that offers a new view of the animal. There's a very limited amount of footage and photos available of it, and even far less knowledge of its biology. So for the holiday cards, I rely on the reference available and my own imagination to bring the Saola to life. I'm a children's book illustrator at heart, so I often take some artistic license with style and subject matter to show the Saola in whimsical scenes, interacting with other animals. In years past, I've illustrated the Saola with a menagerie of animals from Douc Langurs, gibbons, turtles, to Owston's Civets, and recently the Large-antlered Muntjac.
This December, I'll be taking a trip to Vietnam for the book launch of "Wonders of the Annamites" (in Vietnamese it's called "Các Loài Quý Hiếm Vững Trường Sơn") by Nha Nam Publishing. As my wife and I are avid bird watchers, we'll be doing some birding in the national parks after the event, so I decided that for this year's card I wanted to depict the Saola along with a flock of birds from its home range. Robichaud was intrigued by the concept, and decided that we should tie the card with a new conservation organization called the Silent Forest Program. This is a new campaign by the European Association of Zoos and Aquaria (a very faithful and important supporter of the SWG) that is focused on the Southeast Asian songbird crisis. There has been a population crash in songbirds throughout Indochina and the Greater Sunda region, as wild birds are being illegally collected for the pet and singing contest trade. Many forests are becoming eerily silent and devoid of the rich diversity they once held. The Silent Forest Program works to raise awareness of this issue, fundraise for conservation efforts, and provide support for captive breeding programs.
My illustration this year depicts eight bird species that are significant to the Annamites and/or are known to be vocal species, perched on the Saola for protection. The birds appear quiet and stoic, save for a Red-tailed Laughingthrush that is whispering into the Saola's ear. I like to think that perhaps the bird is asking the Saola for help avoiding detection by humans, as the Saola itself is such a notoriously cryptic species.
Q. Why are you so committed to helping the Saola Working Group?
A: I'm fascinated by the Saola's story. It was mostly unheard of outside Laos and Vietnam for centuries. It is now so rare that its existence has been almost elevated to a mythical or legendary status. Without the SWG's efforts to slow poaching and habitat loss, the Saola will certainly become extinct within my lifetime (this phrase has unfortunately become a bit cliché when discussing endangered species, but unlike other imperiled species such as elephants or tigers, the Saola has never been seen in the wild by a biologist, has only been documented a handful of times via camera traps, and none exist in captivity).
Working with the SWG, I've been inspired by this group of people who have dedicated their careers to protecting this species and its habitat. There are people who have spent countless hours devoted to studying and protecting something that they will possibly never even glimpse. I'm committed to show that through my art.
Q. What do you hope SWG members and supporters take away from the holiday card?
A: One important—and certainly intentional—outcome of the conservation work of the SWG is that its conservation efforts has an umbrella effect on many other incredible species of the Annamite Mountains. When poaching or habitat destruction of the Saola is reduced, countless other animals benefit. This card in particular shows that many bird species that were once considered common are now becoming as vulnerable as the Saola. Wildlife in the Annamites is at risk from a myriad of threats, so any interest and financial support generated through this holiday card can make a big difference in supporting the conservation work of the SWG.
Q. What is happening at the Vietnamese launch of "Wonders of the Annamites?" What else will you be doing while in Vietnam?
A. The book launch will be hosted by Nha Nam Publishing on December 3rd in Hanoi's Book Street in the Hoàn Kiếm District. Camille Coudrat from Project Anoulak and I will be presenting the book, doing a Q&A with press, and even doing a drawing and painting lesson with kids from a local art club. It's going to be a lot of fun, and we invite any SWG supporters and families around Hanoi to come to the event!
Afterward, my wife and I are headed southward to enjoy a few of the national parks in Central Vietnam that are within the Annamite Mountain Range and foothills. We'll be birding and primate watching around Cuc Phuong National Park and visiting the Endangered Primate Rescue Center and Save Vietnam's Wildlife to learn more about the rehabilitated gibbons, langurs, pangolins and civets. Then we'll head to Phong Nha Ke Bang National Park (a UNESCO World Heritage site) to do a mountain day-trek with a local eco conservation tour company. Finally, after a drive to Hue, we'll be taking a day trip to Bach Ma National Park for birding, then visiting the Son Tra Peninsula Reserve outside of Danang to observe the endangered Red-shanked Douc Langurs with a local NGO called GreenViet. It'll be a dream come true to finally see firsthand some of the habitats (and hopefully species) that I've been researching and illustrating for the past many years. While we don't expect to glimpse a Saola, we still hope to see some of the other mammals and birds that I've featured in "Wonders of the Annamites" and in these holiday cards for the Saola Working Group.
(All artwork by Eric Losh)
https://www.savethesaola.org/wp-content/uploads/2017/11/SWG-Holiday-2012_Tree.jpg
724
1000
Lindsay Renick Mayer
http://www.savethesaola.org/wp-content/uploads/2017/01/SWG-logo_FINAL_4-300x300.png
Lindsay Renick Mayer
2017-11-15 14:21:31
2017-11-15 14:25:08
A Q&A with illustrator and SWG holiday card designer Eric Losh