The phrase "for better or for worse" has taken on a new meaning for Zoo Boise's former director, Steve Burns, who was shocked to open a card with a $35,000 check to Saola conservation among his wedding gifts in August. Burns has been a passionate champion of Saola conservation since he heard SWG Coordinator Bill Robichaud give a talk at the Wildlife Conservation Network's Wildlife Expo in San Francisco in 2011. The donation will support the construction of the conservation breeding center for Saola, a risky endeavor that nonetheless represents the best hope for the species.
"My wife and I had asked people not to give us gifts, but some gave us cards and movie tickets, things like that," Burns says. "We opened up one of the envelopes and there was the check for $35,00, with a wonderful note about Saola conservation. We were so surprised—it is such a nice, unusual, creative wedding gift."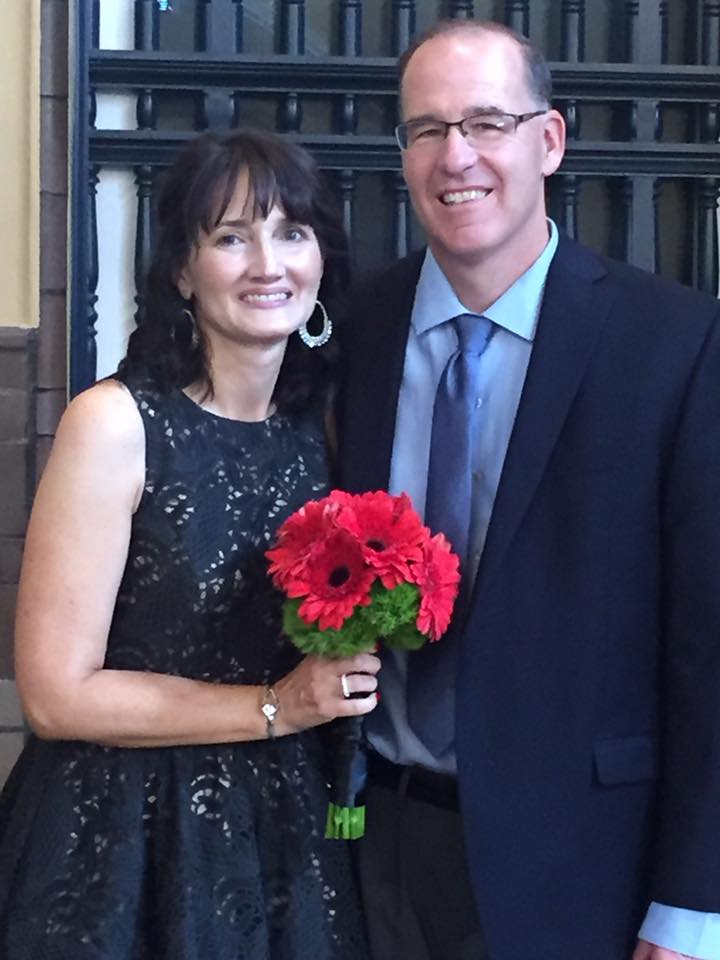 The $35,000 also represented a commitment that Burns had made to Zoo Boise. After an Association of Zoos and Aquariums accreditation inspection in June, Zoo Boise had decided on a $350,000 construction project to address some of the issues pointed out during the inspection. Whenever Zoo Boise launches new construction projects, it pledges to raise and donate 10 percent of the construction costs to conservation. When Burns went before the Friends of the Zoo, he promised to develop a plan to raise the $35,000 for conservation, but didn't anticipate that that plan would involve his wedding.
Zoo Boise has a creative history of supporting Saola conservation through its ZooTeens program. The zoo trained its 160 ZooTeens about the Saola, other Critically Endangered species in the Annamites and the threats to those species, including the rampant snaring crisis that is at the root of the "empty forest syndrome." ZooTeens talk to visitors about the Saola and then ask if they'd like to donate a quarter—the amount rewarded for each snare a ranger pulls out of the forest. In this way, ZooTeens have raised $1,500 to $2,500 each summer.
"Zoos have a moral and ethical obligation to do something about the fact that we're facing the world's sixth mass extinction crisis," Burns says. "And zoos are in a unique position—we have collections of animals that millions of people want to come see and we have an opportunity to generate support for conservation in a way that no one else can."
Under Burns' leadership, Zoo Boise has become a force for conservation. The zoo was the first to charge a conservation fee—$.25 at first, then $.35 and now $.50—for each admission to the park. All revenue from some of the zoo's most popular attractions also benefit conservation, ultimately resulting in a contribution of 10 percent of the zoo's budget annually. Before Burns left Zoo Boise in December to take up the helm as president/CEO of Utah's Hogle Zoo, he also set into motion the first-ever Annamites exhibit—another opportunity to promote the plight of the Saola.
"Part of what makes zoos' support of Saola conservation so great is that no zoo has a Saola—we're doing this not to benefit a popular zoo species, but instead to save a little-known species," Burns says. "The Saola has a lot of star power, and zoos can help share that story. Once you learn about what has gone on in that part of the world, where we're basically just vacuuming out the forests of all of their animals, you want to know what you can do to help."
Burns will now continue to raise support for conservation in his new post at Hogle Zoo. His wife, an accountant, has also become a Saola champion, and the two hope to travel someday to the Annamites. Their $35,000 wedding gift is one of a number of donations from zoos worldwide that are participating in a fundraising campaign for the new conservation breeding center.
"When I told SWG's Bill Robichaud about the gift, he was so thrilled," Burns said. "He asked me if I could get married again any time soon."
https://www.savethesaola.org/wp-content/uploads/2018/03/e90de667392413333ee847f530d75ecf.jpg
427
1000
Lindsay Renick Mayer
http://www.savethesaola.org/wp-content/uploads/2017/01/SWG-logo_FINAL_4-300x300.png
Lindsay Renick Mayer
2018-03-20 10:13:37
2018-03-20 10:13:37
Unexpected Gift to Newlyweds Helps Save the Saola